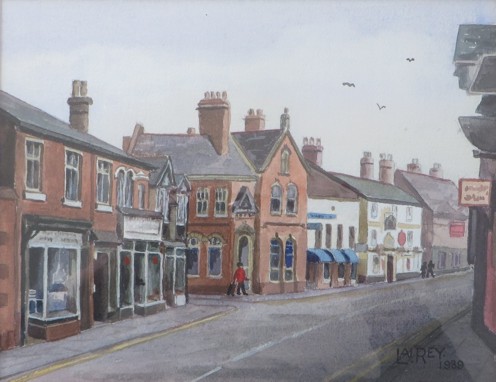 Dr Graham Sayce has generously donated three paintings of Wem High Street by Lilian Airey to Wem Civic Society. As well as being well executed paintings, they provide a record of the appearance of Wem High Street in 1989.
Unfortunately we have limited information about Lilian Airey. We know that she died on January 31st 2008, aged 93 years, and had been an important contributor to the artistic life of Wem. It is likely that she spent part of WWII in Manchester. One of her paintings showing the devastation in that city hangs in the Greater Manchester Fire Service Museum in Rochdale. To see the picture click Fire Service Museum - Lilian Airey painting.
[Note:The Museum tells the story of firefighting, particularly in the Greater Manchester region. The area has played a significant role in the story of fire brigades and fire engineering. Manchester formed England's first municipal fire service in 1826, whilst the country's earliest motorised fire engine was delivered to Eccles in 1901.]

If anyone has any information about Lilian Airey, please get in touch with the civic society at wemcivsoc@yahoo.co.uk.