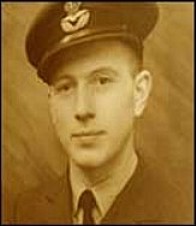 Cyril Douglas Swain, known as 'Sid', was born in Wem, Shropshire on 15 December 1911; he lived in Belle Vue, Wem where his elder brother, Robert Percival had been born at the beginning of 1911. Their parents were Percival (born 1883, in Leicester, a cheese factor) & Beatrice (neé Townsend, born 1888, in Cockshutt, Shropshire) Swain. Beatrice's mother, Mary Townsend, was a farmer's wife, born 1859, in Worthenbury, Flintshire. Percival Swain's parents were Roger (a cigar manufacturer)and Cornelia Swain. Cornelia Swain was born in Holland, The Netherlands, the daughter of Pieter Vandenerand, a tobacco merchant.

Gained wings on 29th August 1936; trained at Snewell, 6th Flying Training School.

Had an 'avoidable' accident on 3rd August 1937 flying from Tern Hill to Turnhouse and intending to refuel at Usworth. The OC's view was he should have turned around on encountering fog. He encountered thick fog over Middlesbrough at 1427 hours.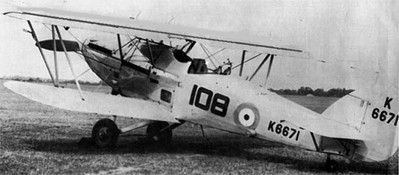 Attempts to land at Thornaby were thwarted by low cloud. The local newspaper reported him circling over Loftus for some time. Running low on fuel, he landed in a field at Liverton, but overshot and ended up in a ravine and extensively damaged the undercarriage and propeller. The machine was later written off. [Thanks to www.yorkshire-aircraft.co.uk for this information.]
[The plane was a Hawker Hind fitted with Kestrel V Rolls Royce engines. It was introduced in 1931, used as a light bomber trainer from 1935. See image on RHS.]
The accident caused vision problems, which resulted him being transfered to navigational duties for a while.
105 Squadron was reformed on 12 April 1937 at RAF Harwell as a day bomber squadron. It was one of the first squadrons to be sent to France. Along with other squadrons it suffered heavy loses during the Battle of France. On return to Britain, Blenheims replaced the Fairey aircraft. Eventually these were replaced with Mosquitos, ideal for low-level precision attacks. The first such attack was against the Gestapo Headquarters in Oslo on 25 September 1942. The squadron was the first to do a daylight raid on Berlin on the 30 January 1943. By June 1943 the squadron joined 8 Group ( Pathfinders). It performed precision target-marking for Bomber Command until the end of the war. The squadron was disbanded at RAF Upwood on 1 February 1946.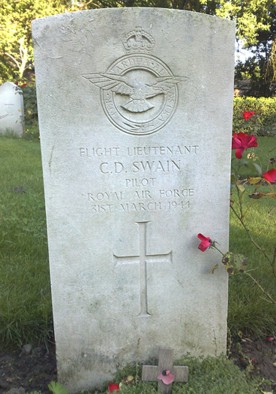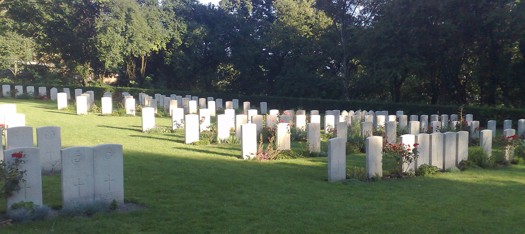 From August 1940 onward Swain successfully flew 8 bombing missions. However the RAF bomber squadrons were taking heavy casualties and the plane (Blenheim IV) and crew were shot down on 28th November during a raid on Dusseldorf. He was sent to Stalag Luft I at Barth, Germany. He was transfered to Stalag Luft III and took part in the Great Escape. 76 men managed to break out of the camp via an escape tunnel. Hitler ordered all the escaped POWs to be shot. Hermann Goering persuaded Hitler to reduce this to 50 in an attempt to cover up the murders of POWs, a war crime. Himmler dealt with the organisation of the murders. All 50 POWs were said to have been shot while attemping to re-escape. Swain was recaptured near Gorlitz and last seen alive on 31st March 1944. Investigations pointed to his murder by Lux (a Gestapo field officer who was probably killed during the siege of Breslau) and Wilhelm Scharpwinkel (a member of the Gestapo High Command in Breslau who died in a Soviet prison in 1948). He was cremated at Liegnitz. His gravestone can be seen at Poznan Old Garrison Cemetery, Poznan Wielkopolskie, Poland [Plot: 8. C. 1.]. The majority of the WWII burials are those of airmen. As well as those involved in the Great Escape, there were those who died in the bombing operations on Stettin (Szeczin) and POWs from other stalags.
[Shropshire Star report] On Wednesday 25th March 2009, Wem's civic leaders got together to remember Cyril Swain for his role in the Great Escape. The Mayor of Wem, Councillor Pauline Dee, laid a posy of fresh spring flowers at the town's war memorial to mark the 65th anniversary of the escape. Also present were county, district and town councillor Chris Mellings, Wing Commander Tim Owens, deputy station commander and Squadron Leader Neil Hope at from RAF Shawbury, plus members of the Royal British Legion, Rotary and Probus clubs and other Wem Town Councillors. Prayers were led by the Rector of St Peter and St Paul Church, the Reverend Christopher Cooke and a two-minute silence was held.
In 2010 a series of displays and talks organised by Wem Civic Society featured the story of the Great Escape. Wem Town Hall also put on a special viewing of the film of the Great Escape.